Organisational Structure of the Department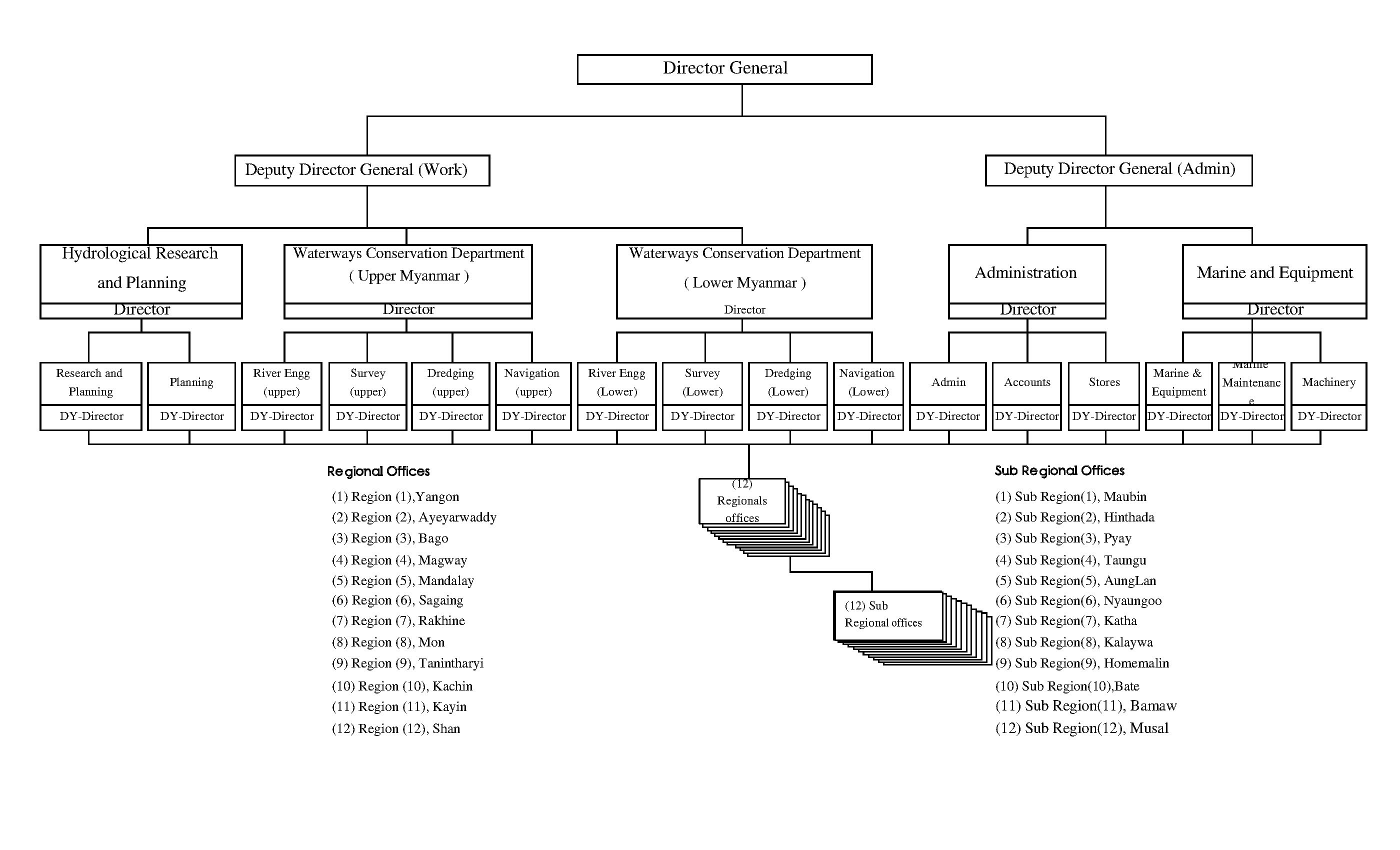 Names and brief responsibilities of the sections under department
(1) Administraction
Recuritment, promotion and dismission of personnels.
Training and education related activities for participants both in home and abroad.
Welfare services for personnels.
Finance planning, control and management.
Implementing procument both in home and abroad. Distribution.
Assist by means of administrative measures for project implementation and management.

(2) National Hydrological Research and Planning Department
Preparatory research for river training.
Least Available Depth (LAD) prediction.
Ayeyarwady and Chindwin data bank improvement for river training works.
Qualitative and quantities study on river water resources.
Develop the hydrographic envelopes of gauge stations on major rivers.

(3) Navigation Section
Introduction of lighted bouys for the stretch of Mandalay and Bagan.
Navigation aids for inland waterways.
Promulgation of navigation warning.
Publication of river routes.

(4) Surveying Section
Hydrographic survey works operations are done to support river engineering works, dredging works and navigation aids operation.
Channel surveying and mapping.
Surveying and technical suggestions for waterways of the cross river birdges.

(5) River Engineering Section
Implementation of navigation channels along the Ayeyarwady and Chindwin rivers according to master plan.
Implementation of bank protection works.
Improvement of Twantay canal.
Establishment of river ports.

(6) Dredging Section
Reclamation works.
Dredging works for the improvement of access channels.
Dredging works for the improvement of navigation channels and harbours.
Establishment of river ports.

(7) Marine and Equipment Department
Management and maintenance of vessels
Vessels docking and repair